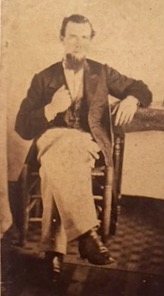 "Hugh Murray was born in County Down, Ireland, December 18, 1839. His father, Michael Murray, also a native of Ireland, was a farmer by occupation; he married Catherine Murray, a native of the same place, and they had ten children, five sons and five daughters. Hugh, the seventh child, came to the United States in 1857, settled in Washington County, Mo., and commenced working at the trade of wagon-making, which he has since followed. He married Miss Mary Maloney September 10, 1866. She was born in Connecticut, and was a daughter of Michael and Ann Maloney. Mr. and Mrs. Murray have eight children living, viz.: William, Katie, Annie, Nora, Hugh, Edward, Andrew and Paul; one daughter, Emma, was deceased at the age of six years. Mr. Murray has recently added to his business a stock of coffins and undertaker's supplies, and has done a satisfactory business in this line. He is a man of strict honor and commands the respect of all his acquaintances."
– History of Washington County Missouri. (1888) Chicago: Goodspeed Publishing Company.
On June 19, 1866 the court recorder for St. Charles County, Missouri, entered the marriage date for Hugh Murray and Mary Molone[y] as Sunday, September 10, 1865. The ceremony was performed by M. Oakley, who is likely Maurice Oakley, a Catholic priest at St. Charles Borromeo Church in St. Charles, Missouri from 1863-1866.
Hugh and Mary's nine children were born between 1866 and 1883 and were baptized in St.James Catholic Church in Potosi, Missouri. By 1901 it would appear that the entire family had moved to St. Louis, Misssouri, where it seems all or most of Hugh and Mary's 26 grandchildren were born between 1899 and 1926. One granddaughter is still living.
Hugh and Mary's grandchildren had 44 children born roughly between 1926 and 1966. About 33-37 were living in July 2011.
Mary (Moloney) Murray Obituary
St. Louis Post Dispatch
29 June 1912, page 10

St. Louis Post Dispatch, 29 June 1912, p 10, col 2

Hugh Murray Obituary
St. Louis Post Dispatch
03 September 1916, page 1B

St. Louis Post Dispatch, 03 Sep 1916, p 1b, col 2