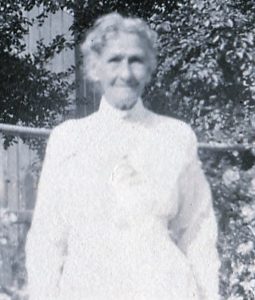 My cousin gave me this photograph of our great grandmother, Mary Jane (Ryan) Hardie. It was enclosed in an envelope postmarked 1917 and addressed from MJ Hardie in East Liverpool, Ohio to Mrs. Edw. L. Murray c/o Mrs. John Bedford at 4824 South Broadway in St. Louis, Missouri.
Mrs. Edw. L. Murray was Frances Diamond (Hardie) Murray, Mary Jane Hardie's daughter and my grandmother. In 1917 Frances Murray, her husband Edward L. Murray, and their children were living on Virginia Avenue in St. Louis, about a 12 minute walk from 4824 South Broadway.
Questions
I don't know why Mary Jane Hardie sent this picture in care of Mrs. John Bedford on South Broadway rather than directly to her daughter, Frances. My cousin remembered her mother mentioning the "Bedfords on Broadway". But who was Mrs. John Bedford and what was the connection between the Bedfords and my great-grandmother Mary Jane (Ryan) Hardie?