On Saturday-Sunday, July 2 -3, 2011, a reunion of the descendants of Hugh Murray and Mary Maloney was held in St. Louis, Missouri. On Saturday morning attendees journeyed to Potosi, which is about 70 miles southwest of St. Louis.
Most, if not all, of Hugh and Mary's nine children were born in Potosi and were baptized at St. James Church. The church and the nearby graveyard were still there. Hugh also had a wagon-making and undertaking business in Potosi and we visited the location where it stood.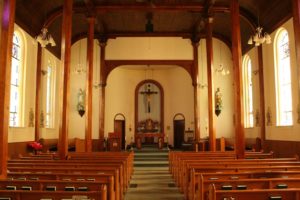 Bernard and Mary Flynn
Hugh's sister, Mary (Murray) Flynn (1832-1899), and her husband Bernard Flynn (1828-1892) emigrated from County Down, Ireland before Hugh. Mary and Bernard Flynn lived in Potosi, where Bernard worked as a wagon-maker.